Thinkdiag Full System OBD2 Diagnostic Tool
Thinkdiag Full System OBD2 Diagnostic Tool Powerful than Launch Easydiag with full powerfull software 
THINKDIAG is an Automotive Diagnostic Device same like easydiag. It supports full systems diagnsis for the car, and 15 kinds of reset functions.You can delete car errors codes and reset the system if you have the thinkdiag.
Description
Thinkcar Thinkdiag All system diagnostic tool 15 reset service acutation test & coding work with smart phone
THINKDIAG is an Automotive Diagnostic Device same like easydiag. it support full systems diagnsis for the car ,and 16 kinds of reset functions.it including kinds of car software .you can delete car errors codes and reset the system if you have the thinkdiag.
ThinkDiag will be a $3000 level professional scan tool.
ThinkDiag is perfect to use with our unique App. Easy and convenient, anytime and anywhere. Comprehensive functions include diagnostic module, ThinkStore module, ThinkMoments module, Me module, etc
launch Thinkdiag Advantages:
1. Connect car via bluetooth on smartphone, app name is ThinkDiag
2. Plug ThinkDiag into the OBD port, open ThinkDiag App on the smartphone to do the vehicle diagnosis.
3. 16 kinds of reset service
4. Full System Diagnosis
5. full software worth is nearly 1000 USD
6. Cover Up to 115 Major Vehicle Manufacturers: ThinkDiag covers 115 major vehicle manufacturers in the market, and keep updating
7. Free Update Online for One Year. After one year it will cost $39.95 per year, please pay in server yourself to update.

THINKDIAG Full System Diagnostic Tool:
Thinkdiag can diagnose the electronic control system of prevailing vehicle models covering Asian,European, American and China. Full range car models and full car system diagnose make itaprofessional automotive diagnostic tool.
Include : 
ABS
 system, 
engine
 system, SAS system , 
TPMS
 system , 
IMMO
 system , Battery system ,Oil service system , 
SRS
 system , ect…
Diagnosis functions include: Read DTCs, Clear DTCs, Read datastream, Actuation Test , ECU coding and 16 Special Function ect…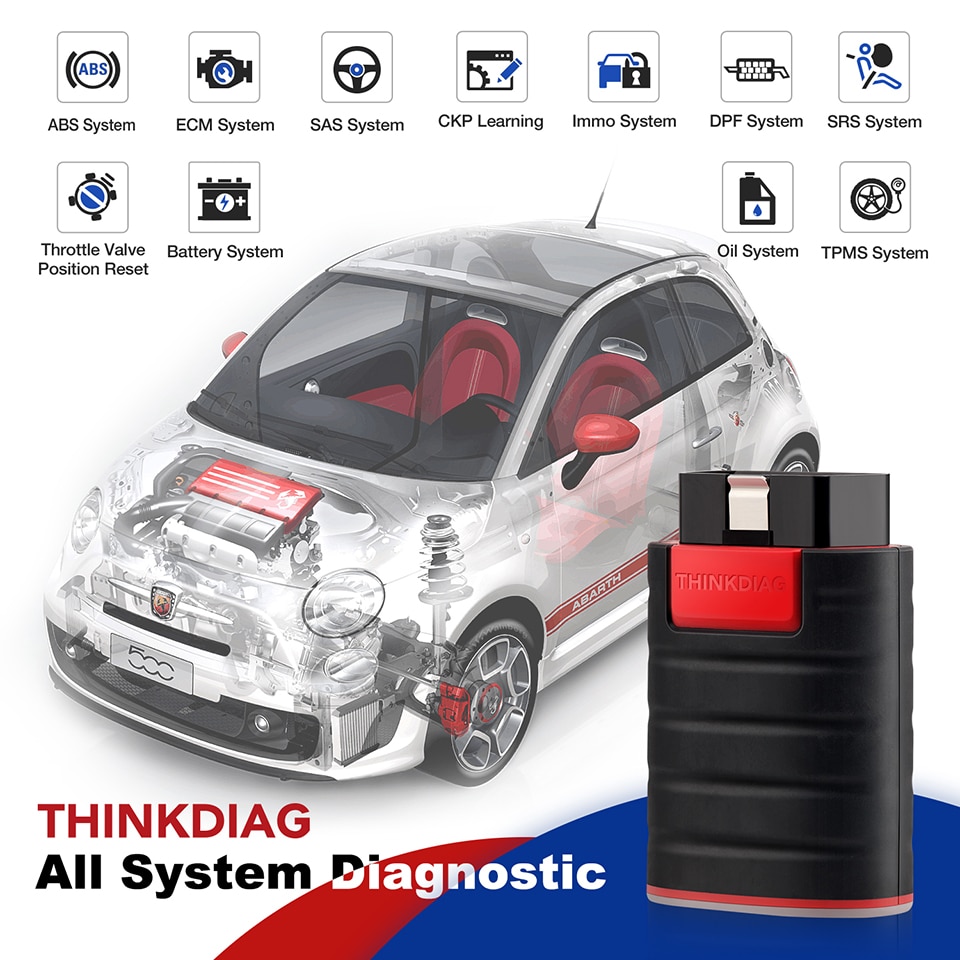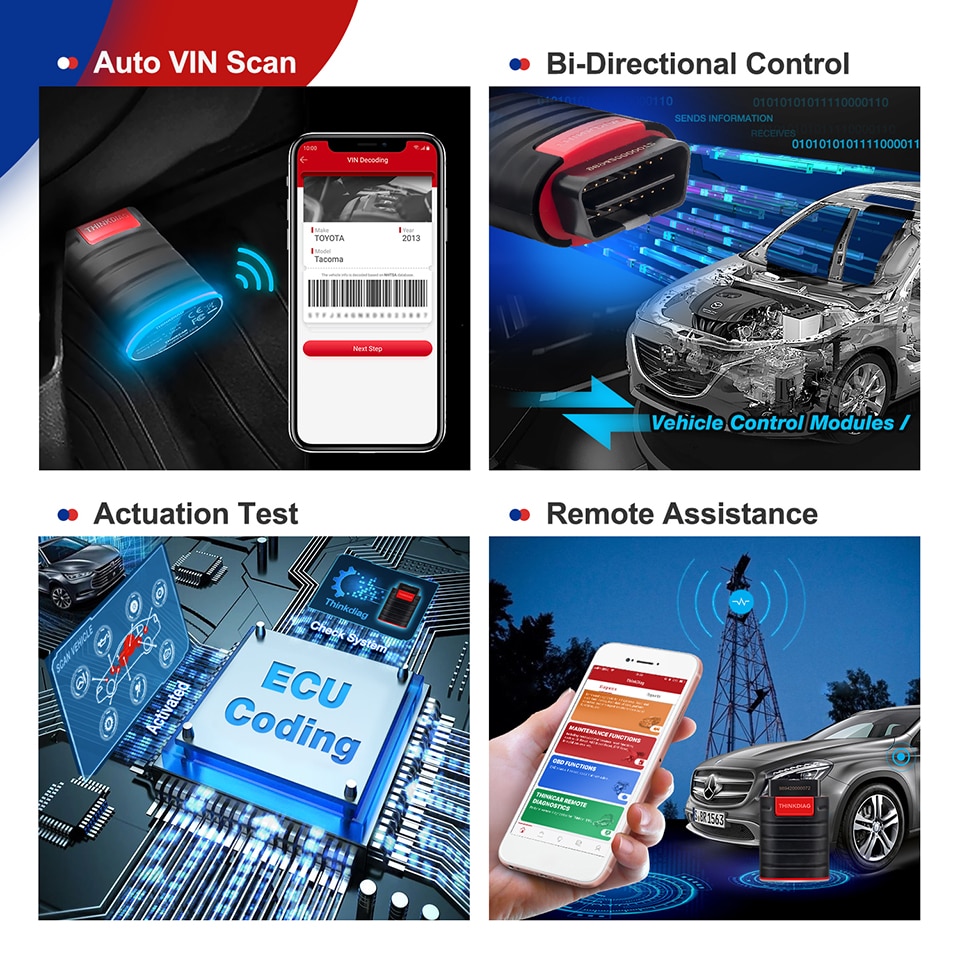 16 kind of special functions;
Oil Reset Service
Steering Angle Calibration
Electronic Parking Brake Reset
Battery Register & Battery Maintenance
ABS Bleeding
Electronic Throttle Position Reset & Learn
Diesel Particulate Filter (DPF) Regeneration
Tire Pressure Monitor System Reset
Anti-theft Matching
Injector matching
Air Suspension Reset
Gearbox Reset
Sunroof RESET
AFS Reset
EGR Reset
Gear learning
EPB Reset –Maintain the electronic braking system safely and effectively by deactivating and activating the brake control system, setting brakes after disc or pad replacement, etc.
BMS Reset –Evaluate the battery charge state, monitor the close-circuit current, register the battery replacement, and activate the rest state of the vehicle.
SAS Reset –perform calibration for the Steering Angle Sensor, which permanently stores the current steering wheel position as the straight-ahead position in the sensor EEPROM.
…………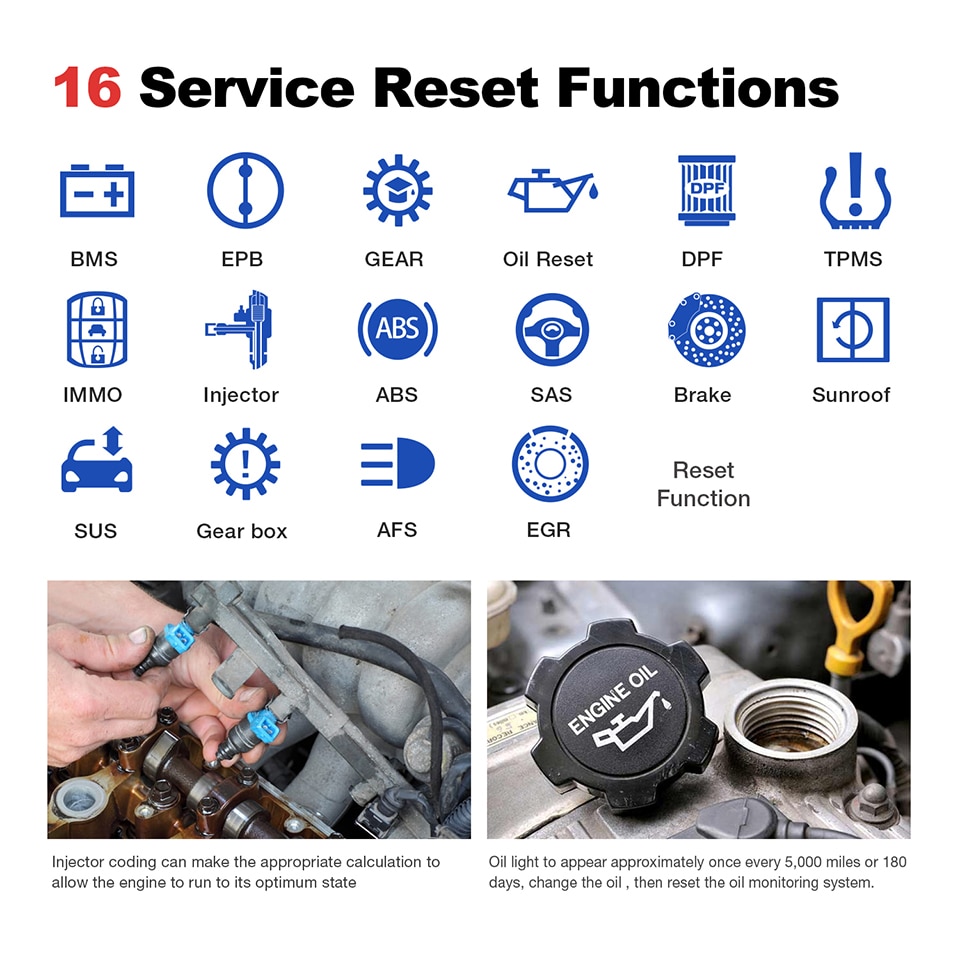 Compact Size of the Device for Easy Connection:
ThinkDiag App is available in Google Play and AppStore. Search'Thinkdiag" to download the App.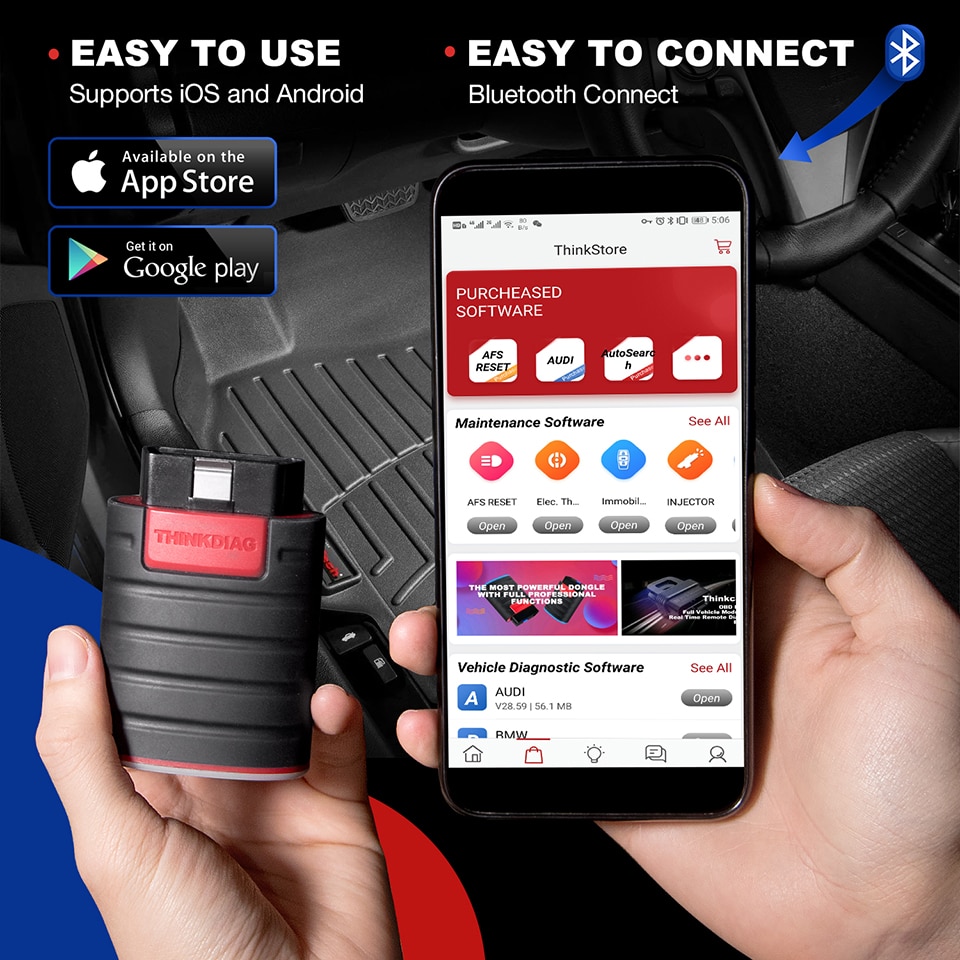 Powerful Diagnostic Functions :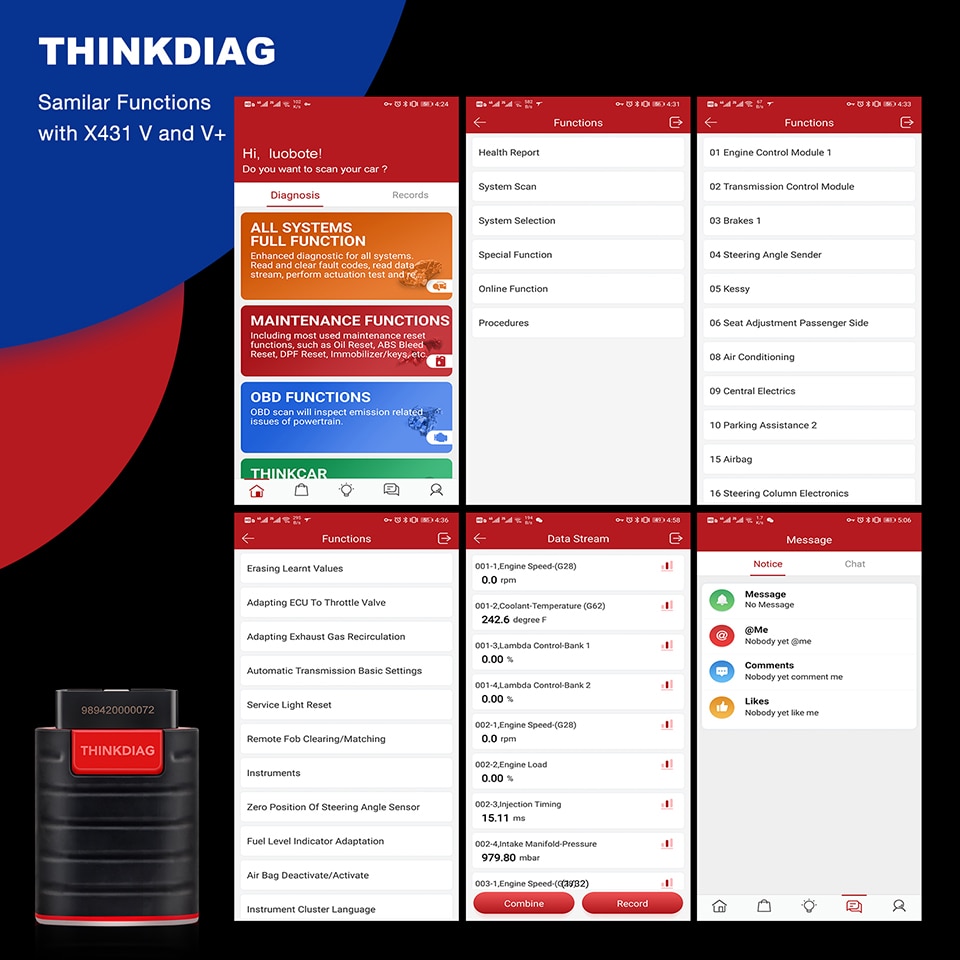 print vehicles diagnostic report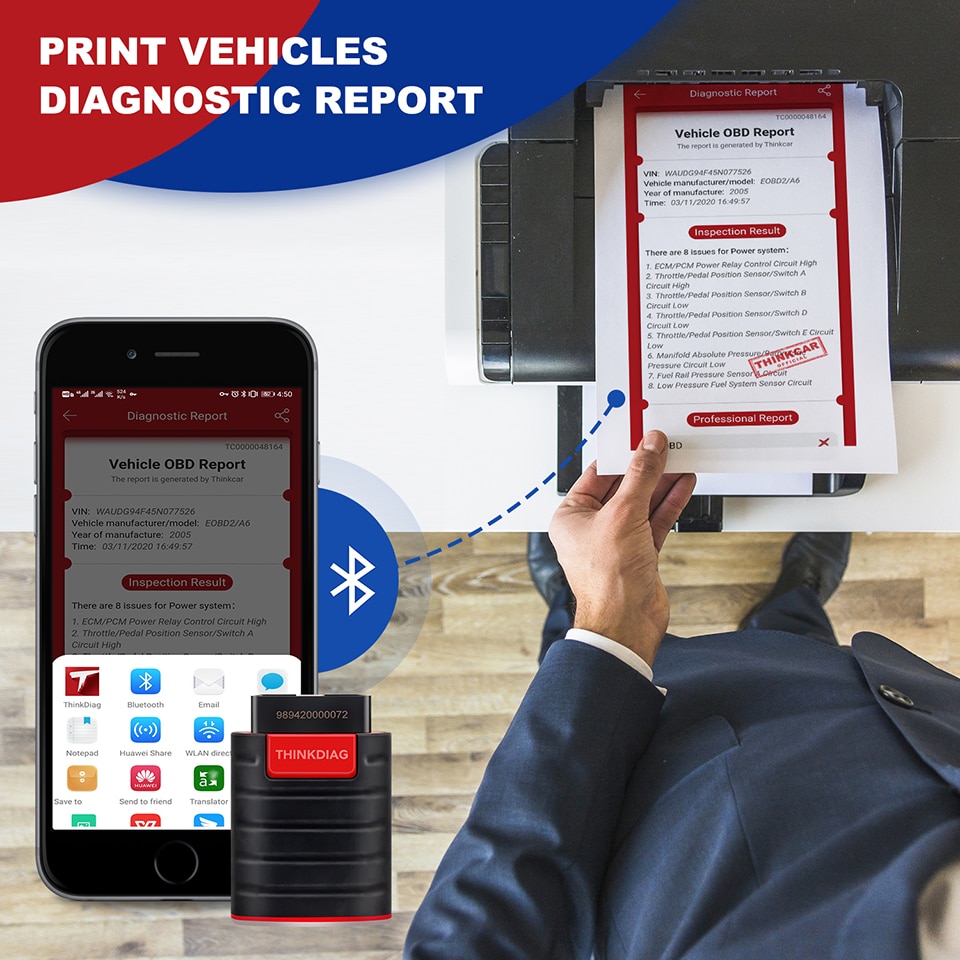 Cover Up to 115 Major Vehicle Manufacturers: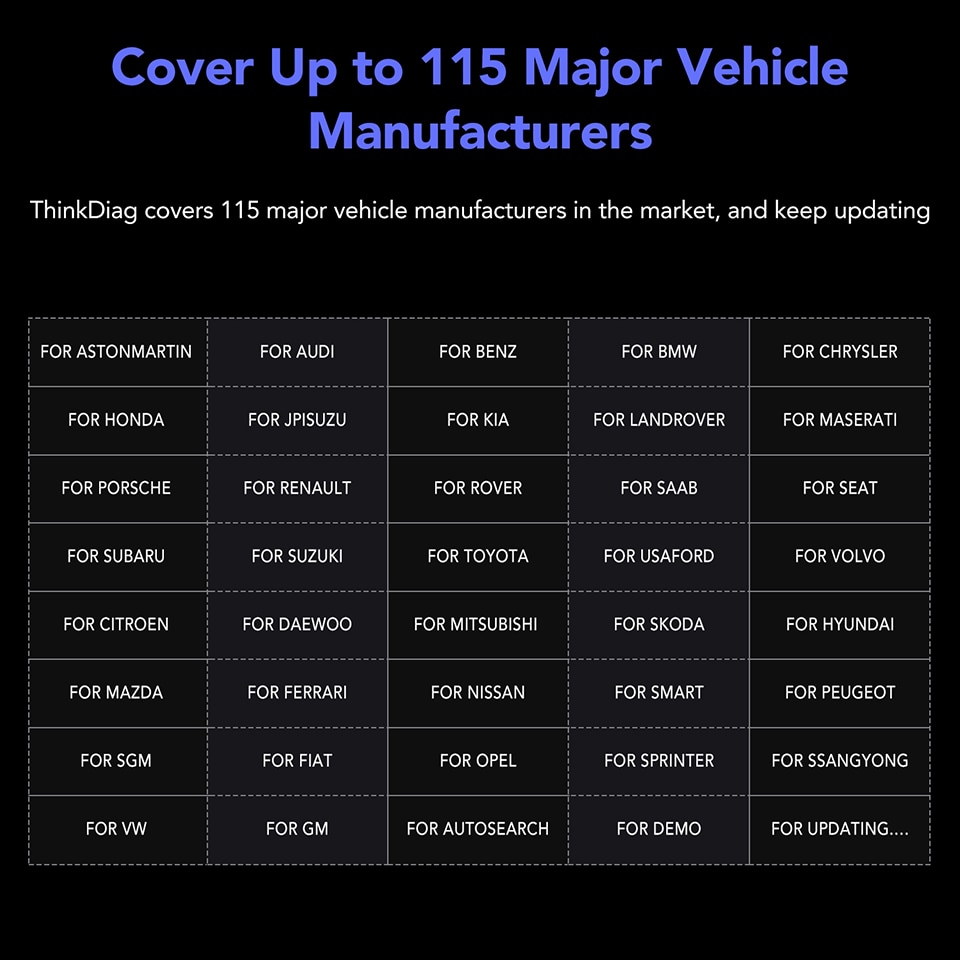 Powerful and Competitive Functions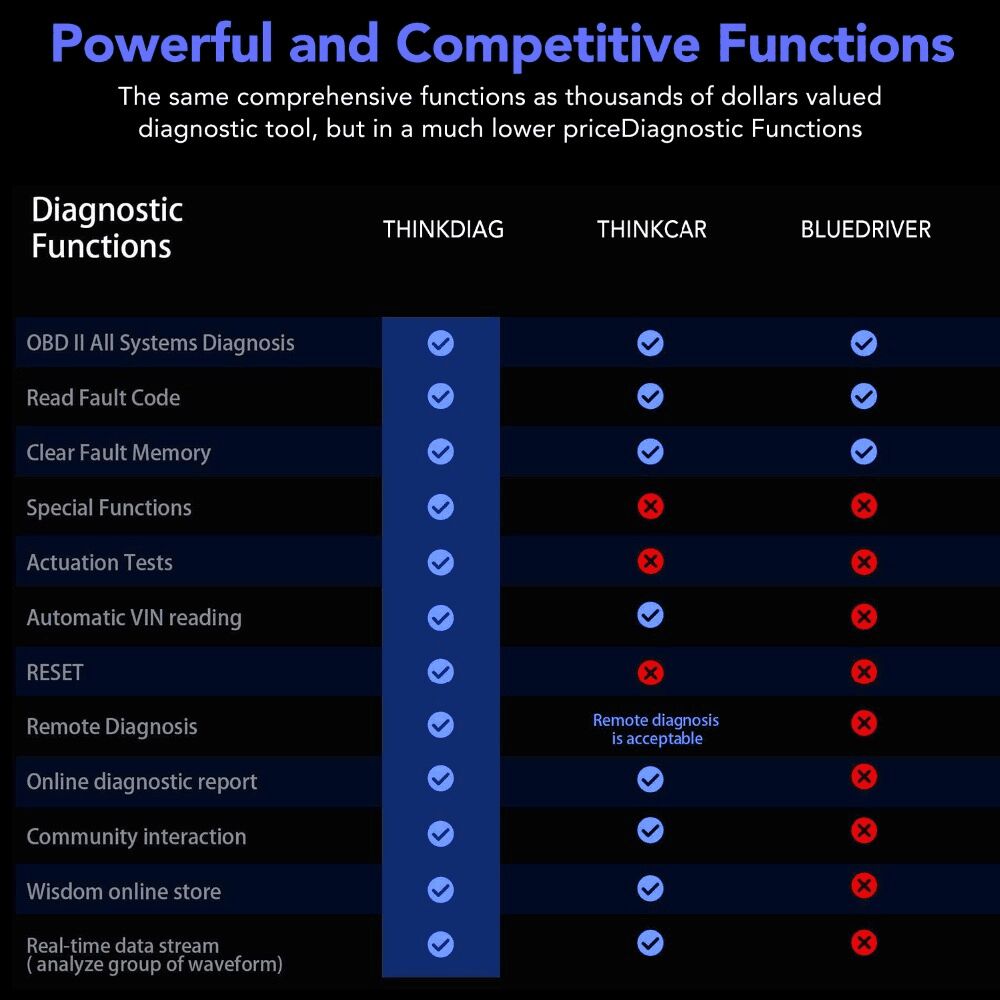 launch Thinkdiag Package Includes: